Self Propelled Scarifier Machine for Floor Surface Preparation with CE Certification
Views:204 Author:Site Editor Publish Time: 2020-06-12 Origin:Site
Self Propelled Scarifier Machine For Concrete, Asphalt, Epoxy Floor scarifier, also called floor milling machine, or floor removal machine, removes of the old floor surface road repair, thick epoxy resin, also to clear the road marking. JIEHE JHE-280 is self propelled model, equipped with 25HP Honda gasoline engine and American Eaton hydraulic transmission. .It offers high speed, accurate surface preparation at an economical price.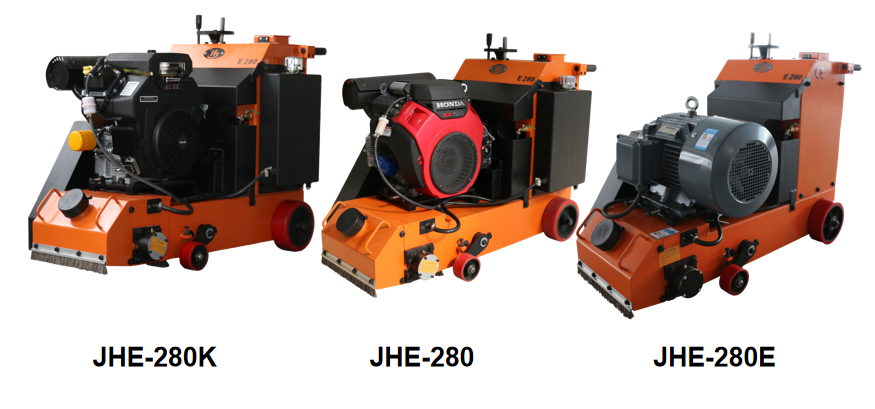 Max depth of 15mm Automatic scarifying machine Parameters:
Model | JHE-280 |JHE-280E |JHE-280K | Power Option | 25HP Honda Engine | 11KW SIEMENS for 380V, 3P|23HP Kohler Engine | Working Width | 265mm| 265mm| 265mm | Working Depth | 0-15mm| 0-15mmm| 0-15mm | Drum Rotation | Up cut(clockwise) | Down cut(clockwise) | Down cut(clockwise) | Drum Assembly | Changeable | Changeable | Changeable| Depth Control | Yes | Yes | Yes| Num of Shaft | 6pcs | 6pcs|6pcs | Num of Cutter | 110pcs | 110pcs| 110pcs | Machine Weight | 306KG | 339KG | 306KG| Packing Size | 1380*720*1010mm | 1380*720*1010mm | 1380*720*1010mm | Walking Way | Self Propelled | Self Propelled| Self Propelled |
Application of Hydraulic removal depth and speed floor milling machine : Clean warehouse floors. Level sidewalk trip hazards, uneven surfaces. Remove coating; paint; epoxy; thermoplastic road marking. Changzhou Jiehe Machinery Co., Ltd is the Professional manufacturer on road maintenance for 21years. All of the products are CE certified and comply with international standard. The products are already exported to 72 countries and got the good reputation.